A Complete Point Of Sale Solution With Multiple Stores & Warehourses
Geo POS is a beautifully crafted Point Of Sale application. Application is packed with ton of features like
Point Of Sale, Invoicing, Quotations, Purchase Orders, Inventory Management, Customer Management, Supplier management, Project Management, Accounts, Data & Reports, REST API, CRON JOBS, Employee Management with distinct user roles. It has options for all types tax, like Exclusive, Inclusive and GST.
We develop products for long life, not just the fancy features to temporary show off. Our author has research abilities, some of research papers are published in reputed international journals. In the future updates, we will try* to include some AI (artificial intelligence) modules, the research is on going.
FAQ
When will you release SaaS version?

Do you think you can get a reliable SaaS app in just $50 ? It will not last more than some months for real world usage. SaaS apps require advanced customized virtual stacks and very efficient database architecture with custom research and kernel level optimizations.

Are future updates free?

Yes! Future updates are completely free and we publish lot of updates, based on your features suggestions.

21 Languages are available, check the bottom of the page..
Tax – Inclusive, Exclusive & GST
Multiple Products Units
Subscriptions/Service Module

Support/Assistance are provided only by email/support tab. Please send an email or message via support tab.
The Application has ready to use REST API, so you can link it with different applications also as per your requirements.

Point OF Sale
Beautifully Designed Point Of Sale
Support for Online Payment
POS Registers for each employee
POS Registers Log
QR Code Due Invoices
Subscriptions
A Well Designed Subscription Management Module
Support for Online Payment
Multiple Stores
Create Multiple Store Under One Brand
Assign Store to an employee
Invoicing
Custom tax rates per products
Select TAX Type for invoices
Custom discount rates per products
Integrated Stock Manager
Get online payment with unique invoice link
Decent Invoice Printing template
Quotations
Send Quotes with proposal as Email
Convert quotes to invoices
Purchase Orders
Send Purchase receipt with your stock requirement to supplier
Integrated to Inventory Manager
Inventory Management
Track Stock worth category wise
Manage Product Ware Houses
Manage products with live stock status
Customer Management
Customer Wallet and online recharge
Get Record of Invoices with specific customer
Income & Expenses by customer
Income & Expenses by customer
Supplier management
Get Record Purchase orders
Payment record to supplier
Accounts
Payment for invoice will reflected
Sales & Purchase is integrated to accounts
Transactions
All Payment activities record
Make Custom transactions
Data & Reports
Company Statistics
Accounts Statements
Income
Expenses
Sales & Purchase TAX Statement
Ticket Based Support System
Customer can create tickets in his login
Employee can reply and solve problem
Project Manager
Useful and easy to use project management module is included with options like view and comment by customer
Task Manager
Business owner/manager can assign tasks to employees
MISCELLANEOUS
Twilio SMS Intigration
reCaptcha
Bit.ly Short invoice URL in SMS
Notes
Documents
REST API : Connect with other applications
CORN JOBS
Employee Management
Preloaded Multiple Payments Gateways
TAX Statements
Editable Email Templates
Export & Data backups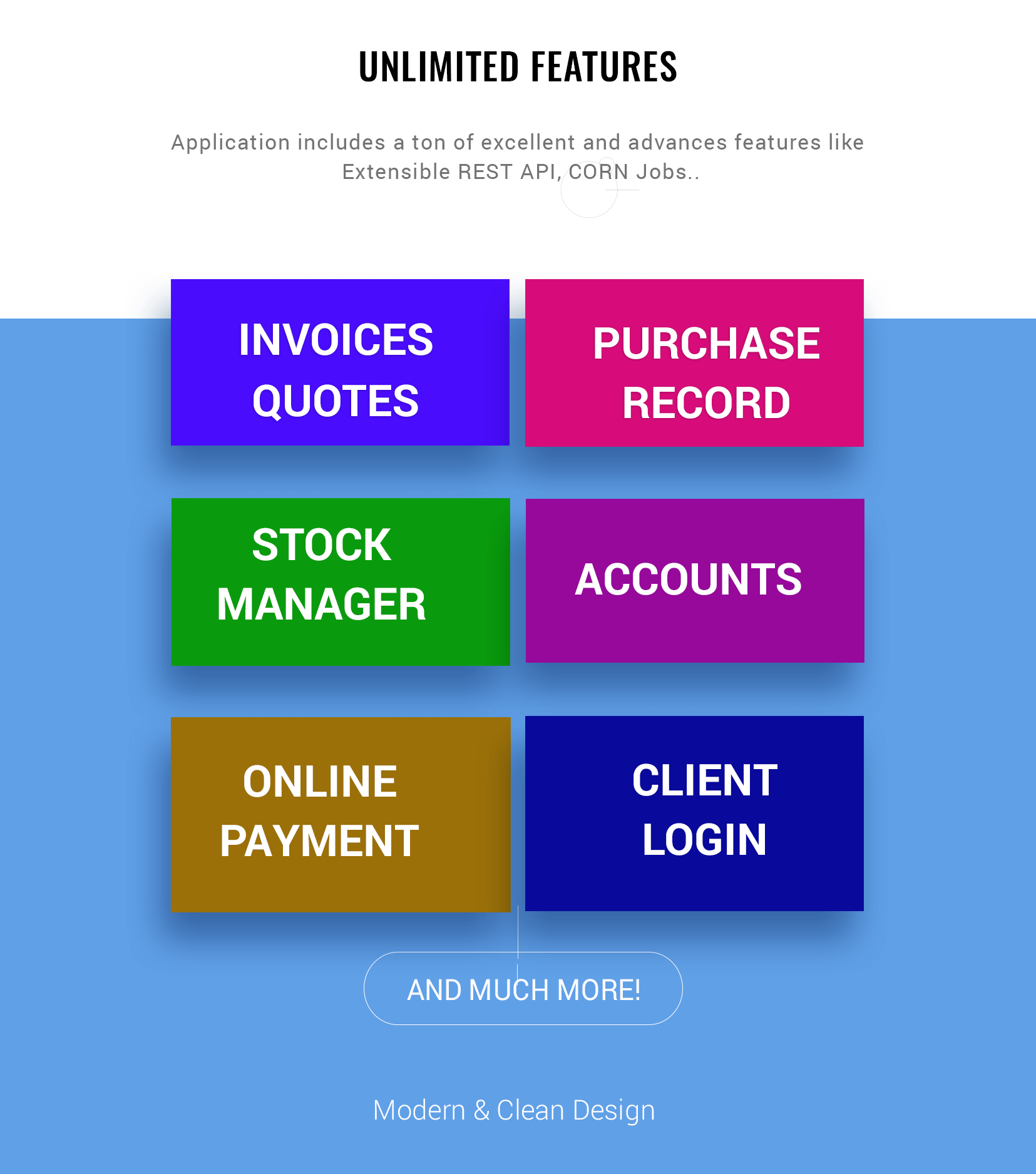 Nice Printable Invoices
The application offers a well organized pretty invoice template to print, have a look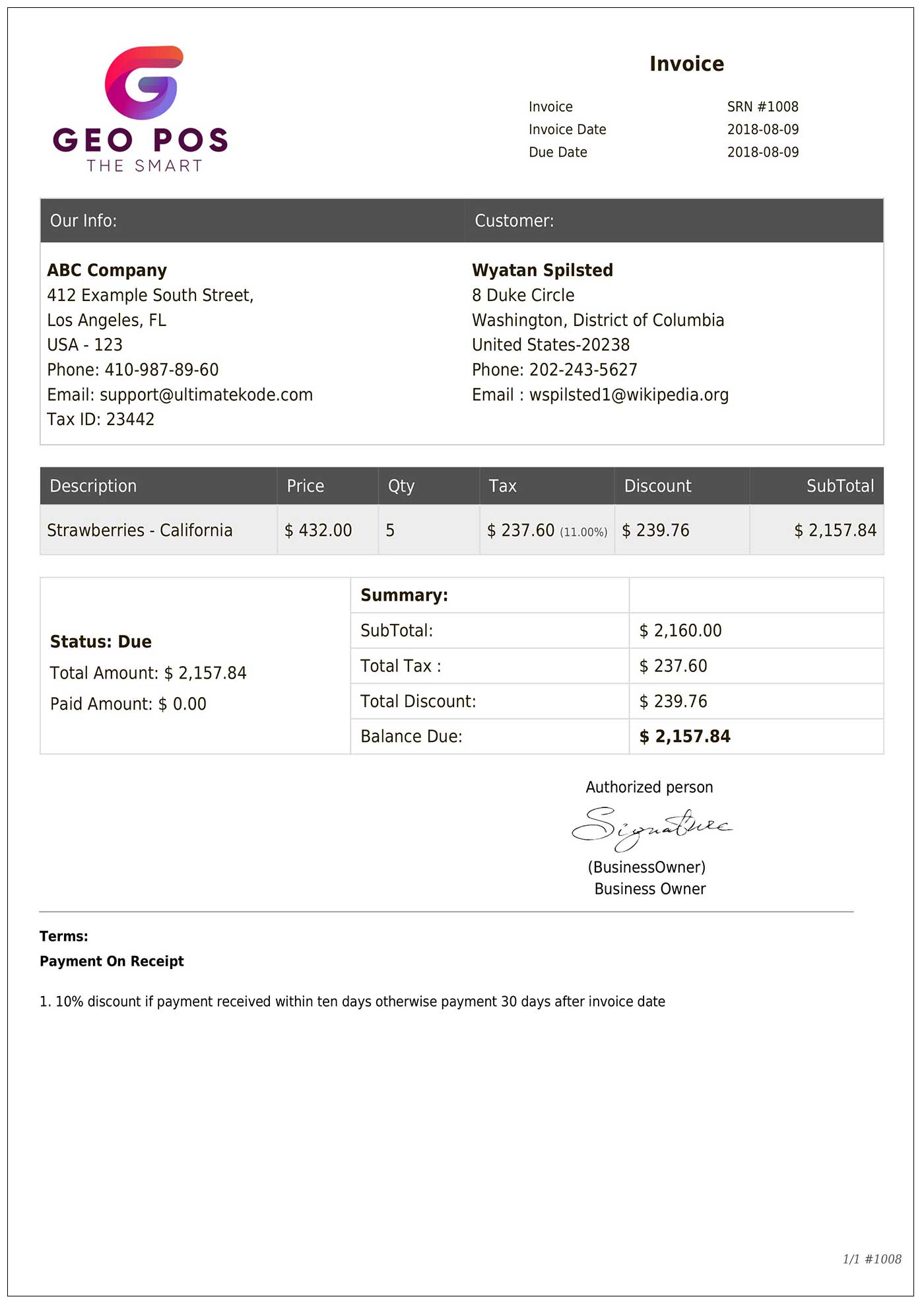 Demo Details
Login section for employees
URL : http://billing.ultimatekode.com/geopos
Business Owner/Admin
Email: superadmin@example.com
Password: 123456
Business Manager
Email: manager@example.com
Password: 123456
Sales Manager
Email: salesmanager@example.com
Password: 123456
Sales Person
Email: salesperson@example.com
Password: 123456
(In application Sales Person role is limited to own invoices)
Login section for customer
URL : http://billing.ultimatekode.com/neo/crm
Email: customer@example.com
Password: 123456
Requirements
No Programming Knowledge Required to install and use built with CodeIgnitor. Flexible and easy for modifications.
This application has no special requirement, It can run on very basic configured and low powered system. It requires only PHP 7.0 or later with MySQL, which is very common in the current market.
Available languages are: Arabic, Bengali, Chinese-simplified, Chinese-traditional, Czech, Dutch, French, German, Greek, Hindi, Indonesian, Italian, Japanese, Korean, Latin, Polish, Portuguese, Russian, Spanish, Swedish, Urdu. The application is fully translated into above languages and files included. As translation is the subject of improvement so you may find some inappropriate words in translation. It will be great if you help us to improve the translation. You can contribute the language files improvements, proper credits will be given in the application documentation. You can translate it to your language if your language is not listed above.

RTL (Right to Left) support is available ..
Ready to use Payment Gateways are: Stripe, Authorize.Net, Pin Payments, PayPal, and SecurePay.
You can order customization for other payment gateways like Payfort, PayU Money etc.
Change Log

---Changelog---
--Change Log v 1.o
- Initial Release 

[ Full change-log and well written documented guide attached with this software ]

= Regarding AI modules, we can not guarantee or provide you exact timeline, outcome is dependent on our research outcome.